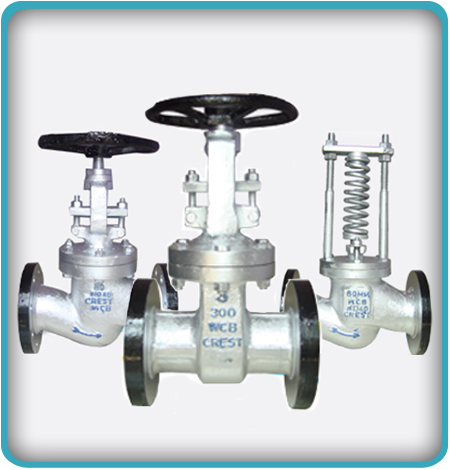 Established in 1994, Crest Industrial is an Industrial Valves Manufacturers for IBR and NON-IBR valves. Our company is located in Ahmedabad City, a political, economic and cultural center with a transportation hub in west India, this city connects with road and rail transport with ease as well having nearest sea-shore in the south cost of Gujarat State. Crest Industrials as a manufacturers of "Crest" brand valves in the medium - scale sector. Our company's sucess day by day in all over the country with our dealer distribution network ensuring easy availibility. It is on this foundation that "CREST" reputation for excellence has built an image & won appreciable responce from the overseas market by our local dealer. We manufacture quality valves of almost all type for a wide spectrum of users in the Chemicals, Power Plants, Petrolium, Fertiliser, Pharmaceutical, Petrochemicals, Textiles, Sugar Breweries & distilleries, Sewage & Water Treatment.

Our company has always been devoted to research, development, manufacturing and distribution of high quality specialized IBR and NON-IBR valves with our promoters Mr. Mohd. Husain Kamkoriwala (B.com). Our main products include cast steel, cast iron, stainless steel, investment casting as well as alloy steels in Gate Valves, Globe Valve, Check Valves, Ball Valves, Butterfly Valves, Strainers and automatic regulating type valves, which are all made in accordance with customer requirements and specifications in API, ASME, ASTM, EN, GB and etc. Meanwhile, by continuously absorbing advanced technology from home and abroad and combining production experience accumulated in the past years, we have developed series of characteristic new products. Now there are various models and nearly thousand specifications of products, with the applicable up to high temperature of 800℃.

The secret of our sucess is the uncompromising business standards of our managements & the company's unrelenting focus on quality. Each product is made from finest material & is subject to stringent, rigorous check & inspections by qualified engineers at every stage of manufacture. If it doesn't measure upto the "CREST" standards it is rejected out of hands. This way "CREST" knows that it's product will give the reliability & on-demand services.